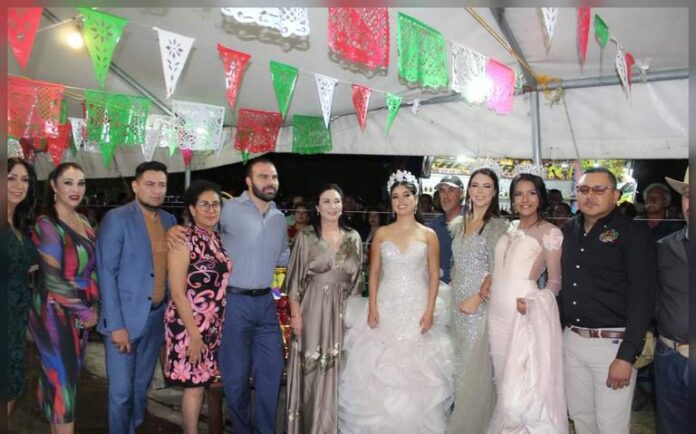 With the presence of the long-awaited rain, the 2023 Apple Fair began, with Fernanda I being crowned, who received the crown and scepter from the hands of Mayor Ángela Rojas Rivera and the president of the organizing committee Armando Quiñones Jalil, on Friday night.
The esplanade of the Juárez Garden, converted into the People's Theater, was the site where hundreds of people gathered to witness the coronation of Queen Fer and the placement of the Tiara on Royal Princess Chelsea and Alma, respectively.
Personal situations prevented the attendance of the outgoing Queen Selena, commented the organizing committee, at a family event, which began with the participation of Chabeli, a performer of ranchero music and proudly from Canatlen.
At the beginning, the local president and the businessman president of the committee gave recognition to the various sponsors who supported the beginning of the festival in its preparation stage, local and foreign companies that have a branch in Canatlán.
The young Levi Eliasaf Salazar Jiménez saluted the Sovereign of the most popular festival in Canatlán, on a night set by the rain falling on the enormous awning placed on the esplanade and the attention of those present to the greeting to the one who will reign in the this year, Fernanda Álvarez Ruiz.
Doctor Kitzia Zamora Salazar represented the Secretary of Health in the State, Irasema Kondo Padilla, with the presence of the Queens of the Apple editions Laura De los Ríos (1987) and Wendy Villa (2010), in addition to the members of the Honorable City Council.
The expected moment came with the inauguration of the representative festival of the municipality, led by President Rojas Rivera, who highlighted in her message that the Canatlán Fair is not only a celebration of the rich history and traditions, but also an opportunity to promote unity, respect and solidarity among the Canatlanses.
"This event is a testimony of our collective spirit, a spirit that is characterized by resistance, dedication and passion for our land, today we celebrate twice, a year ago nature tested us and thanks to the support of all of you we managed to come out and go ahead", he said.
"We hope you enjoy everything that the Canatlán Fair 2023 has to offer. May this be an opportunity to celebrate our identity, to learn more about our culture and heritage, and to build stronger relationships within our community," said Angela.
With the usual solemnity, the inaugural ribbon cutting took place at the fruit, agribusiness and Reinas gallery exhibition, as well as the so-called industrial pavilion, located in the Juárez garden and the corner of Cuauhtémoc and Guerrero streets, respectively.
The Apple Fair will be held from September 8 to 17 and will offer sporting, social, cultural and entertainment events, in the various scenarios that will be set up in the city of Canatlán.
  Source: El Sol de Durango