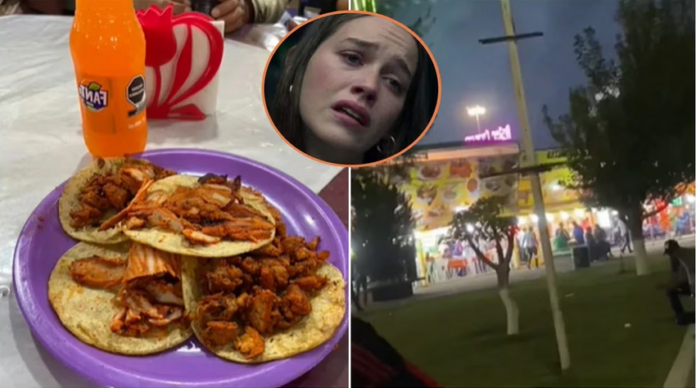 It was through TikTok where the woman identified as Gagzp15 (@gagzp15) shared that during the event she got hungry and went to eat at a taco shop, however, her surprise came when she realized the exorbitant price they wanted to charge her.
In the video that quickly reached 64,000 views on social networks, it can be seen that she had only ordered a plate with approximately four pastor tacos and an orange soda.
Apparently the Mexican attended the premises along with seven other people and shared a photograph of the account they were given.
The ticket shows that they ordered eight orders of tacos al pastor, 1 roasted taco, 1 flank steak, 5 soft drinks and 3 waters.
Although the prices of each item were within a "normal" range for a place of this type, the total was 2,392 pesos, the woman's complaint was that they made the sum of the products wrong and wanted to charge them approximately 700 additional pesos.
"Before going in to eat, they offered us the order for 75 pesos, supposedly for 10 pesos more it was a larger tortilla that turned out to be the same. I don't remember the prices of the drinks, but it was a lot too. It appered a lot of money and we decided to do the bill before paying, "said the woman.
Likewise, she remarked that the taquería staff would have pressured them to give a specific percentage of tip.
"Then the supposed owner of there came out and said that she was going to kick them out, someone that nobody believes because we know in advance that they are all the same and that is what they do. They gave us a 10% tip, a recommendation, make your account before paying, "
Users on TikTok were quick to react and several of them were baffled by the large amount they wanted to charge them.
"Look at prices beforehand, don't pay the bill. Call the competent authority ask them to call Profeco and the tip is not obligatory". "Everyone saying that she asked the prices before and they mean that they made the wrong account, they were charging them more, please read." "In all the fairs it is the same because the boards charge them a good amount," she reads.
Source: Infobae