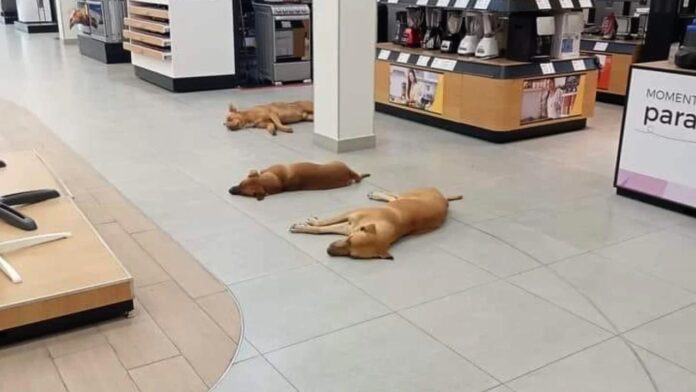 The third wave of heat is causing high temperatures in the middle of the country, and it is impossible not to feel these effects, so much so that even the doggies suffer the consequences.
In Gómez Palacio, Durango, an Elektra branch has sought to support the puppies and allows them to enter its facilities to rest from the intense rays of the sun; In addition, it allows them to cool down with the air conditioning.
A user of social networks was in charge of viralizing this good deed; The post has already received approximately 2,000 reactions, almost 900 shares, and around 200 comments, including those who applaud the action and those who were moved by the solidarity of the employees and the company.
     Some of the most notable comments were: "Last Friday I went to make a payment and there they were, they are the same, they are noble, calm and they allow themselves to be caressed"; "Seeing this kind of thing makes me believe in humanity again"; "I wish that was the case in all stores that have air conditioning." 
Ricardo Salinas and his love for puppies
After making this case known, the businessman and owner of Grupo Salinas, Ricardo Salinas Pliego, detailed on his social networks that he has instructed his employees to treat puppies well in all his businesses.
"I have already told them that it is an ORDER to treat dogs and cats well in all my businesses. They say a saying that what you do says more about you than what you say," he wrote on Twitter.
How to identify a heat stroke in your pet?
According to specialists, a heat stroke is when a temperature above 42 degrees Celsius is recorded, causing discomfort such as difficulty breathing, blood clotting or even death.
Symptoms of heat stroke in pets:
Shows anxiety and despair
excessive panting
Salivation
Tachycardia
Vomiting and diarrhea
Loss of consciousness
What to do if your pet has a heat stroke?
The most important thing is to keep calm and give first aid such as:
Refresh him with a little water (not very cold), it is important to ensure that he drinks slowly.
Give it fresh air little by little, without exposing it to very extreme temperatures
Offer small ice cubes
It must be remembered that time is vital, these actions must be carried out while the nearest veterinarian is located to immediately transfer your pet.
Source: Milenio