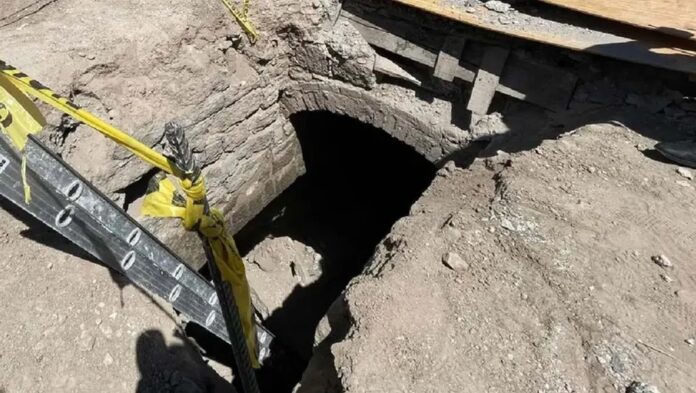 It happened in one of the parking lots located in the downtown area of the city.
Durango has proven to be a territory full of history, since vestiges of its past are constantly accidentally found, either due to construction or by mere chance. On this occasion it was some employees of a construction site who exposed the discovery.
It happened on the afternoon of Thursday, April 20, in one of the parking lots located at the intersection of Blas Corral streets and Avenida 20 de Noviembre in the Downtown Zone, when employees of a construction site discovered a tunnel dating from the turn of the XVIII century, and possibly formed part of the old area of the Camino Real.
The archaeological findings in Durango have given much to talk about so far in 2023, the first finding occurred at the end of March, from a user from Lerdo who exposed on social networks some old tracks sticking out of the road, belonging to the tramway of the XIX century.
The second was in the downtown area of Gómez Palacio, where a citizen who was riding his motorcycle noticed a hole in the ground. As he approached, he would notice that it was an old tunnel and decided to photograph it and show it on his social networks.
However, when questioned about it in an interview for Telediario, the chronicler and historian from Durango, Javier Guerrero Romeno clarified that such characteristics, in addition to the location of the find, ruled out that it is one of the famous tunnels of the first square of the city, he commented that it is a latrine, whose role in the city was to showcase waste.
Guerrero Romero asserted that it is very important that the city council protect this historical vestige, specifying that it is not necessarily a tourist attraction, but rather as a shelter protected by the corresponding anthropology and history organizations.
Source: Milenio