In an analysis of 16 brands of spirits and a tequila cream, Profeco found 7 brands that do not meet the specifications stated on their label
Profeco conducted a quality study of 16 brands of spirits and a tequila cream that are marketed in Mexico, of which three are Spanish, two French, one German, and one American.
In this study, carried out at the National Consumer Protection Laboratory, six herbal liqueurs were analyzed, four orange, two melon, one citrus and vegetable extracts; one of absinthe, one bitter, one of anise, as well as a tequila cream.
153 tests were evaluated in which it was analyzed: alcohol content (ethanol), volatile components content, energy content, and sugar content. It was also checked that they comply with the commercial and health information requirements that they must have.
The results that were obtained were favorable for the majority when complying with the declared net content as well as the volatile components that must be had.
However, it was also found that other brands fail to comply by presenting values ​​outside the specifications on the aldehyde label, such as the Spanish brand "Sadar" which had 43.10mg / 100 ml of anhydrous alcohol, less than what was advertised on its label.
Likewise, Frisky Monkey liquor exceeds the alcohol content established by the norms for a liquor, since it has 1.5% above the % of the declared Alcohol Volume.
This same product also fails to comply with its labeling, having a misleading legend that states that "the side effects of Absinthe Frisky Monkey can be caused by some of the herbs in the drink that act as stimulants; Your mood is positive and you will want to embrace the world, raise your consciousness and creativity, don't worry you won't go crazy. "
Likewise, the Jëg's liquor also has more alcohol content than declared, since it obtained 3.6% more than the % Alc. Vol. Declared; and the Refined Ucero Select, with 1.3% above.
The brands that do not declare ingredients on their labels are:
Sadar
Frisky Monkey
Fonte do Frade
Fernet wind 4
Refined Ucero Select
Wind 4 Orange Liqueur Curaçao
Wind 4 Orange Liqueur Triple Sec.
According to NOM-199-SCFI-2017, Alcoholic beverages-denomination, physicochemical specifications, commercial information, and test methods, all liqueurs must have at least 1% sugar, although the dry anise of the brand Refinado Ucero Selecto does not contain sugars.
Regarding the energy content, it was found that among the brands analyzed, in 100 ml of liquor they had between 146 and 397 kcl .; in sugar, the content varies from 0 to 34.2 g per 100 ml depending on the brand.
When buying liquor, Profeco recommends verifying the alcohol content and buying in established stores. This to avoid encountering adulterated alcohol or that does not comply with the established regulations.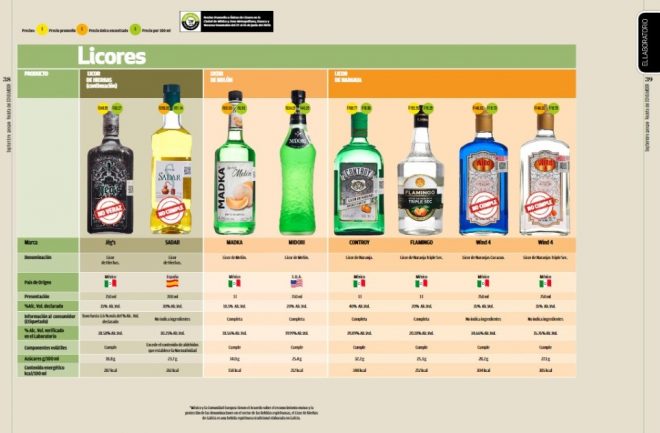 Source: gob.mx/profeco
Mexico Daily Post