This is the ambitious project of Palmer Luckey, creator of Oculus
Donald Trump's government does not take his finger off the line, and it is that one of his campaign promises and pillars of his government remains the border wall between Mexico and the United States. In fact, since the end of February 2020, the President's border wall has grown about 80 kilometers. And now it is about to have a turn of strategy, and design.
According to information from The Washington Post, the United States Government has awarded a five-year, "several hundred million dollar" contract to the Anduril company, to install 200 artificial intelligence-powered surveillance towers along the border. between Mexico and the United States by 2022.
The interesting thing about this is that Anduril is the new company of Palmer Luckey, who was the creator and founder of Oculus, who sold his technology to Facebook and in the end ended up leaving the company due to a scandal after supporting a pro-Trump political group… In other words, his support for Trump has always been clear and today it is bearing the first fruits.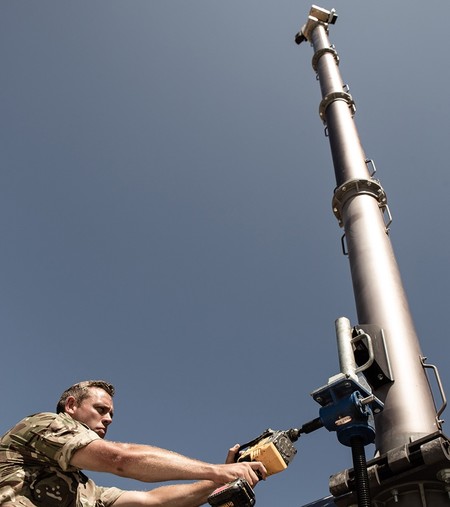 A wall that is not seen, but that divides
After Luckey was forced to leave Facebook in 2017, he founded Anduril Industries, a company with a different focus than Oculus that put aside the commercial factor to focus on the military and national security. The company's first project was surveillance towers with sensors and artificial intelligence, which got them a pilot test with the United States Customs and Border Protection Service (CBP) in 2018.
With just four test towers, Anduril helped CBP arrest 55 people who had crossed the border illegally. And it is that these towers are equipped with cameras, LiDAR sensors, antennas that send warnings to the CBP and software powered with artificial intelligence, which is capable of identifying animals, vehicles or people, so its certainty for patrolling ha been the key to its success.
Anduril's artificial intelligence collects data from those countless sensors, identifies moving objects , and feeds relevant information to its government customers. Thanks to this, CBP initially acquired 56 towers, which they have been testing since 2019.
This has earned Anduril a recent investment injection of 200 million dollars, to which is added this juicy contract by the Trump Government, which opens the door for the company to become a defense contractor in the right way. official. In other words, in just three years the company has managed to position itself as an important player in national security.
Right now, Anduril will be in charge of deploying 200 of these towers along the border, which should be operational in 2022.
Source: xataka.com.mx