Americans are reportedly crossing into Mexico to buy toilet paper and other household items as stores in the U.S. continue to struggle to meet demand from shoppers stocking up on supplies amid the coronavirus outbreak.
On Tuesday, local news broadcaster WKBN 27 News reported that Californians had been "flooding" into Northern Baja looking to buy toilet paper, water, and other items.
The desperate attempt to stock up on supplies comes as stores around the world have seen aisles holding toilet paper, soap, and other sanitary supplies, left empty by shoppers afraid they may be unable to get these supplies as the coronavirus pandemic worsens.
Workers at a Costco in Tijuana told WKBN 27 that they believed as many as 600 shoppers had been turning up in the mornings by 10a.m. over recent days. They came to that number because the store only has 600 shopping carts and by 10a.m., all of those appeared to have been taken.
One shopper, Maria Castro, who works at a Costco store in Fullerton, California, told the local news outlet that she had traveled from Los Angeles to the Tijuana store location because she had been unable to get supplies at her own workplace.
"It's tough for us to come down here to get things, but we're going to try it," she said.
While supplies appeared to be available at the Tijuana location, Castro said the Fullerton store was struggling to keep up with demand, running out of toilet paper, water, and bread.
Castro said she also drove more than two hours to reach the Calimax Supermarket, which is about a mile south of the border, where she was able to buy canned food, rice, and water.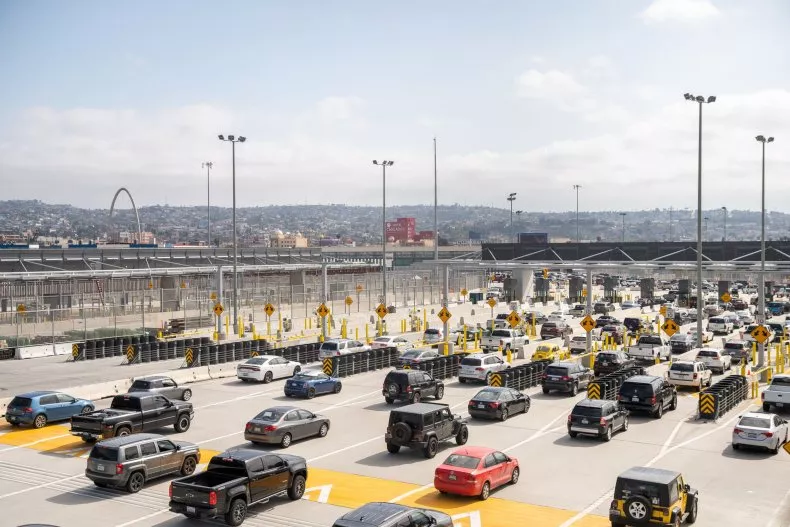 Like many shops, however, the supermarket has only allowed shoppers to buy a limited number of each item, so both she and another shopper, Carmen Jimenez, who lives in San Diego, had to look to other options to find more supplies.
"It's still not very bad right not here, they have a lot of products, they're not selling you more than four packages of anything, four is the maximum," Jimenez told the broadcaster.
As Americans make their way to Mexico, however, to stock up on supplies, the U.S. is reportedly considering tightening its own borders further, The New York Times reported that the Trump administration will soon start turning asylum seekers and migrants who cross into the U.S. outside designated entry points away immediately, without due process.
The expected measure is one of several that has been touted as a way to prevent the spread of COVID-19.
According to an online tracker maintained by the Johns Hopkins University, more than 6,500 people in the U.S. have been affected by coronavirus, with 115 of those cases resulting in death. In Mexico, the numbers have been much lower, with the country reporting 93 cases, with zero deaths to date.
Source: newsweek.com
The Mazatlan Post